Tweet
Dwayne Unger is our Insurance Coordinator (it's his job to help those who need to work with an insurance company to replace their floors) in addition to being a Flooring Consultant in our Downtown Westminster Showroom.
"Mohawk leads innovation in sustainable flooring with Soft Bigelow SmartStrand carpet with DuPont Serona renewable-sourced polymer, which is produced from corn sugar. By utilizing this new ingredient, 37% of Sorona is being made from renewable resources. This marks the first time that a luxuriously soft carpet offers durability and stain protection, while also making less of an environmental impact.
"The production of Sorona polymer requires 30% less energy than the production of an equal amount of nylon resulting in approximately one gallon of gasoline saved per every seven square yards of carpet. Greenhouse gas emissions from the production of Sorona are 63% lower than nylon manufacturing.
Mohawk has completed another Zoo Challenge!
"The superior stain resistance of SmartStrand carpet is engineered into the fiber and will never wear or wash off, meaning consumers will never need to retreat the carpet with stain protectors after steam cleaning.
Here is one of the rhinos that have tested SmartStrand carpet
"My personal favorite Soft Bigelow SmartStrand carpet is currently Hubbard in color Conquistador. Super plush frieze with a really cool color name!"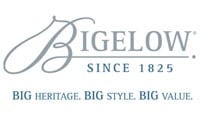 Do you have Bigelow and/or SmartStrand in your home? If so, what do you think?